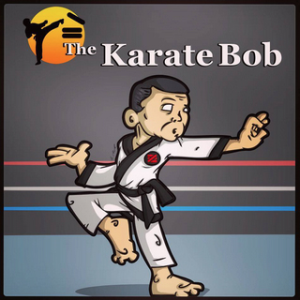 "The Karate Bob." Illustration by Mark Marianelli
I am a third degree black belt and a certified instructor in Tang Soo Do, a Korean martial art, and have been practicing for 15 years. We have approximately 50 students in our dojang, or formal training school, who practice in Cambridge, Massachusetts. Our members vary from beginning white belts to a sixth degree black belt, International Master Christian Klacko, who is the founder and head instructor at our school, Cambridge Tang Soo Do.
Building out a user experience (UX) team is somewhat analagous to building out a martial arts school. If you have too many black belts, then beginners may feel intimidated. If you have too many white belts and too few black belts, then you have no one to lead. What works best is a variety of students at different levels: white, yellow, orange, green, red, blue, and black belts.
Similarly, if you have too many senior user experience professionals on your team, then new hires just out of school may feel intimidated. But it is good to have a few senior members on the team, who can mentor and coach new hires. (Mentoring will be the subject of an upcoming blog.) Leadership is important to success in assembling a martial arts school and a user experience practice.
Building a user experience team and making UX relevant go hand in hand. They require you to lead, by focusing internally on your UX team and externally on your organization. Being a UX leader requires you to influence others. This is easier said than done, but there are basic principles to follow.
(1) Recruit and hire the best talent you can. This often requires both the strategic and the tactical, that is, hiring those who think of the big picture and who also possess the technical skills your team needs. And don't forget having a passion for what you do. I tend to favor and promote those who don't mind being the lone voice of objection, the one person in the room who stands up for customers.
(2) Mentor and train your staff, especially when they first come on board. Find out what they want to do, and encourage it. Coach and communicate.
(3) Remember that you're working for a business. Understand your company's objectives, from the high-level "we want to be #1 at ____," all the way down to "what is the purpose of this screen?" Seek out your product owners and understand their perspectives.
(4) Form alliances, and partner with other business units. For example, business partners working in web analytics and market research can tell you what's happening. Your UX team can show them why it's happening.
(5) Work with management to create an infrastructure to support UX. This involves all of the above, but as a UX leader it requires you and your team to evangelize and illustrate the value of user experience to your organization, including influencing management to put its focus on the people using its products and services.